This Construction Education Newsletter contains information about online construction courses offered at San Diego State University and select nonprofit construction industry organizations. Classes start April 9, 2018. Registrations are currently being accepted by all providers.
~~~~~~~~~~~~~~~~~~~~~~~~~~~~~~~~~~~~~~
CONSTRUCTION CLASSES ONLINE NEWSLETTER
Announcing up-coming Online Construction Classes
by Lisa Thibodeaux, Lisa@ConstructionClasses.com
~~~~~~~~~~~~~~~~~~~~~~~~~~~~~~~~~~~~~~
This newsletter contains the following topics:

Registration Options for Spring Semester 2018 include:
* 101 Introduction to Construction Estimating
* 102 Essential Construction Math
* 103 Construction Blueprint Reading
* 105 Estimating and Bidding 1
* 106 Estimating and Bidding 2
* 107 Construction Materials and Practices

* 109 Practical Applications of Civil Construction
* 110 Civil Blueprint Reading and Materials
* 201S Leadership and Motivation (STP Unit 1)
* 205T Planning and Scheduling (STP Unit 3)
*206T Construction Productivity and Cost Management (Unit 5)
* 308 Construction Project Management

101 INTRODUCTION TO CONSTRUCTION ESTIMATING (online) Learn the basic principles of construction estimating. Topics to be studied include: organization of the estimate, types of estimates, elements of an estimate, quantity take off techniques, pricing techniques, adjusting the estimate for a variety of variable factors, estimating labor, materials and equipment, and profit and overhead markups. You will learn about the different types of estimates and how to organize an estimating document. This course will build a foundation of knowledge that the student will use while estimating virtually any individual trade or project type. More...

102 ESSENTIAL CONSTRUCTION MATH (online) This class is intended to develop mathematical skills that can be applied to the construction trades through practice and application. This course is an introduction to other courses in construction. While this class is not a prerequisite for any other classes, it does provide a foundation for them. More...

103 CONSTRUCTION BLUEPRINT READING (online)
Learn how to read architectural, structural, civil, mechanical and electrical blueprints. We will practice looking up information and solving common construction problems by reading the blueprints. This course is designed to provide you with foundational knowledge and practice at reading blueprints. More...

105 ESTIMATING AND BIDDING 1 (online)
This course features hands-on estimating and quantity take off activities associated with General Conditions, Earthwork, Site Work, Concrete and Masonry. By the end of this class you should be able to estimate the cost of general conditions, prepare quantity take off of excavation and backfill prepare a quantity take off of concrete, and formwork, use unit prices to price your estimate. More...

106 ESTIMATING AND BIDDING 2 (online)
This course features hands-on estimating and quantity take off activities associated with Metals, Wood, Doors and Windows, Finishes, Electrical, and Mechanical Estimating. More...
107 CONSTRUCTION MATERIALS AND PRACTICES (online)
Learn about quality control procedures for various materials, material manufacturing processes and the physical limitations of the materials we are studying. The regulatory environment under which materials are manufactured and incorporated into new structures will be studied. More...

109 PRACTICAL APPLICATIONS OF CIVIL CONSTRUCTION (online)
The purpose of this course is to give the student an overall understanding of construction equipment and selected construction methods. This includes selection, economy and productivity of common construction equipment and construction procedures for site development and industrial, heavy and civil construction. More...

110 CIVIL AND SITEWORK CONSTRUCTION (online)
This course introduces students to estimating civil engineering, heavy construction projects, and site work construction projects. This course will cover reading and understanding civil construction plans, determining earthwork quantities, determining crew make-up, and fundamentals of estimating various civil and site work components More...

201S LEADERSHIP AND MOTIVATION (online)
Learn how to recognize your style of leadership and how to utilize other styles when appropriate. The affect that attitudes and abilities have on job performance and how to positively influence attitudes and abilities will be studied. The leader as goal setter, communicator and role model will all be discussed. Job site applications of all subjects will be stressed. More...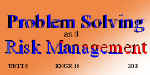 203P CONSTRUCTION PROBLEM SOLVING AND RISK MANAGEMENT STP 6 (online)
Learn how to identify, prevent, and solve construction problems. Subjects include identifying the source of problems, barriers to problem solving and symptoms that often mask the real problem. Human performance problems, scheduling problems and technical problems will be covered. The 6-step method of problem solving and decision making will be stressed. More...

205T PLANNING AND SCHEDULING, STP 3 (online)
Students will learn how to plan, prepare and update construction project schedules in this course. We will study construction planning and will practice preparing a project plan. Through the use of case studies we will learn you how to define construction activities, determine activity duration, and assemble the activities into a logical construction schedule. We will learn to create and use bar charts and critical path schedules. More...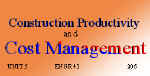 206T CONSTRUCTION PRODUCTIVITY AND COST MANAGEMENT, STP 5 (online)
Students will learn the skills necessary for effective control of construction costs at the job site. We will study construction cost and apply principles and practices associated with cost awareness and production control to each element of the project.. More...

308 CONSTRUCTION PROJECT MANAGEMENT. This course will provide a framework for understanding the project managerís roles, responsibilities, processes and procedures. Student will learn the stages of the project, dispute resolution, project financing, feasibility, bidding and contracting... More...

========================================
To learn more about online CERTIFICATE PROGRAMS just follow this link: http://constructionclasses.com/online/certificate-programs/
========================================
QUESTIONS?
Send an email to Lisa Thibodeaux at Lisa@ConstructionClasses.com or visit our Frequently Asked Questions page at http://constructionclasses.com/online/potential-student-faq/

If you would rather not receive these mailings announcing up coming classes, click the unsubscribe link at the bottom and your name and email will be removed from the list. These email notification messages are sent out once per term to interested parties. Hope to see you in class.